We all have a memory of cinnamon rolls. Most of the time, the memory starts with popping a can of Pillsbury Cinnamon Rolls, baking them and then squeezing that glorious white sugary glaze and watching it melt into those gooey delicious rolls.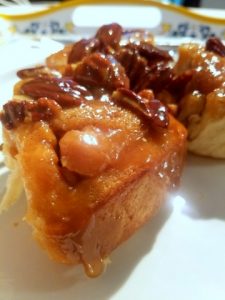 My cinnamon rolls are not that. They combine pecans and salted caramel and the rolls bake with the topping already on it and upside down. Sounds… different, doesn't it. Different is good. These cinnamon rolls are gooey, butter, sweet and tender. When you pull them apart, the aroma of cinnamon drenched in caramel hits you, and it's the most intoxicating scent.
Paired with a cup of coffee on a rainy Saturday morning… you'll feel warm and full, like something has been missing from your routine. The worries will fade away as you melt into the warm embrace of cinnamon and butter.
If you want these cinnamon rolls in you life, find the recipe here.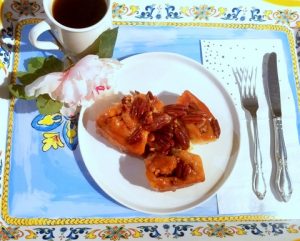 (Visited 49 times, 1 visits today)