On this lovely Monday, we are celebrating a holiday called: President's Day! In order to celebrate correctly, and have some fun, Eric and I looked up the documented favorite foods of all the Presidents!
Some were incredibly boring, old fashioned or gross, and some were just not so doable. We settled on this delicious dish, a favorite of our 43rd President, George W. Bush. According to the Lifestyle section of Wide Open Eats, W. would have a post-church meal of Huevos Rancheros every Sunday they weren't at Camp David.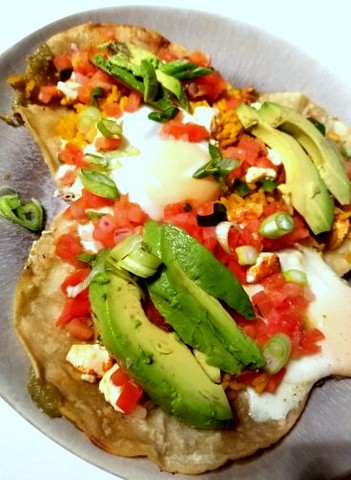 Traditionally, this is a breakfast dish served in the style of large mid-morning fare on rural Mexican farms. The main ingredients are tortillas, eggs, a tomato-chili sauce, refried beans, rice, avocado or guacamole.
In order to make one that I would eat, and that I could keep improving on, I changed some of the ingredients to make mine. I did not use refried beans as I don't like them, used a salsa verde sauce, and fresh tomato salsa and added a cheese element that isn't necessary tradional. I kept the rice and the avocado of course because who doesn't want that?
Sound good? Find the recipe here.
(Visited 76 times, 1 visits today)