It's National Parfait Day and we're making a whole bunch of parfaits. Well, by a whole bunch, I mean two. Parfaits can come in a variety of different flavors and styles.
In my house, yogurt is a staple. We eat Greek yogurt most often, and generally with fruit mix-ins (although I really like the candy mix-ins, or pretzels). And while the yogurt we eat is generally for breakfast, I decided to make one for breakfast and one for dessert. Instead of giving you long recipes, I'll just explain them to you.
The first parfait I made was my Pomegranate Breakfast Parfait.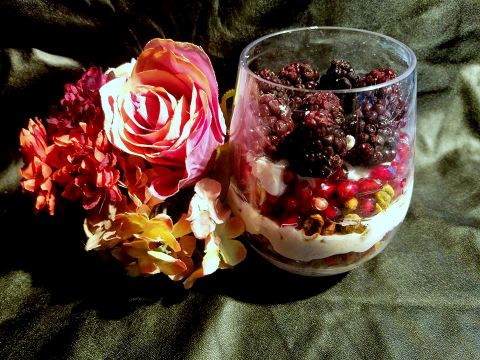 This parfait is more towards what people imagine to be "classic". Cinnamon spiced greek yogurt functions as the base, with pomegranate seeds and pistachio seeds as the other layers. For some extra sweetness, add a drizzle of honey over every yogurt layer. Top with berries and enjoy!
The second parfait I made was a dessert parfait. I have this thing for s'mores. I really really really like s'mores. So I made it into a parfait.
So here is my S'mores Dessert Parfait.
For the base and top layer, crush a few graham crackers. I use the classic honey flavored ones. In a double boiler, melt some dark chocolate. Once fully melted, I mixed it into some plain greek yogurt, thus making a really rich (very tasty) dark chocolate greek yogurt. I recommend using marshmallow fluff for the marshmallow layer. If you have a butane torch, gently caramelize the top layer of marshmallow and then top with a graham cracker and chocolate square.
Delicious. Try these out.
(Visited 24 times, 1 visits today)