It's Valentine's Day, and what are you doing? Maybe going out for dinner or heading to the jewelry store to pick up something shiny.
In my house, we don't really do the whole out to dinner thing. Or the gifts, or the jewelry. I normally try to make something new. So this year, I made scones. But not just ANY scones (I also have a deep love for the word scone), vanilla rhubarb scones. Sweet and tart, these bring the perfect flavors to a Valentine's (or any other day's) morning!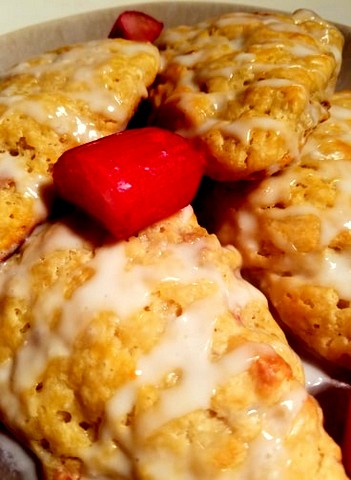 If you already have a scone recipe you love, you can just modify it with ease to make them into these vanilla rhubarb scones. Add another teaspoon of vanilla, or crush up a vanilla bean and add that in. Then, cut rhubarb into small pieces and add those right into the scone mixture and voila! Vanilla Rhubarb scones for your Valentine's Breakfast.
(Visited 26 times, 1 visits today)