I love all things pasta.
Gnocchi, despite being made of potatoes and flour instead of semolina and flour is no exception to that rules. I like to have gnocchi in my house at all times, I make it fresh, and then I freeze it to use later. Normally, the gnocchi I make has eggs in it, but since it's World Vegan Month, I made fresh gnocchi without eggs. The biggest difference between the gnocchi with eggs and the gnocchi without eggs is the softness. Without eggs, the gnocchi is soft. Don't let this freak you out though, because once they're par-boiled they're just fine.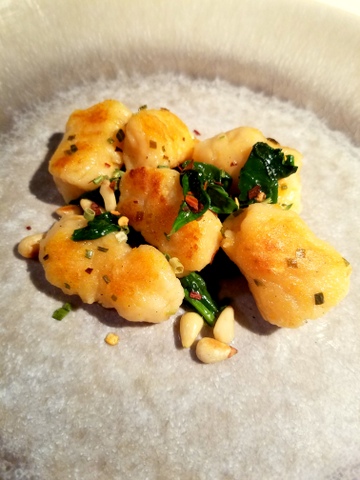 Just so you know, the chive oil is fantastic. I added extra chives after the oil was finished, because it added extra flavor plus I definitely think it looks better. I also added red pepper flakes to mine, but if you don't like that sort of thing, feel free to omit it.
While this dish is technically an hors d'oeuvre, it's easy to scale it up to make it an entree.
Find the recipe here.
(Visited 28 times, 1 visits today)