This month, we at One More Bite with Zoe & Eric decided that we just had to review the very interesting, very intriguing Bob's Burgers Burger Book. The "cookbook", edited by the series creator was released in 2016, and features 75 recipes based on the Specials of the Day chalkboard seen in the popular animated sitcom. It was very hard to choose just 5 of the featured recipes to test and showcase for you all, but being October, we just had to give you some of the Halloween and horror themed burgers. Find a new review from this cookbook for the first four Wednesdays of October and tune in on Tuesday the 30th to hear our final thoughts!
Zoe's Take: 
7.5/10
I really liked the burger itself because I have this wonderful love affair with feta cheese. I used less salt in the patty because of how salty feta cheese is. Of course the chive spread was great, but I would have definitely liked less Dijon mustard, I didn't find that it worked too well, because dijon mustard is just really strong.. What was definitely missing was fresh vegetables, I love frickles as much as the next person, but that doesn't make up for some lovely lettuce and some red onion and tomato. Also, more chives, always more chives. And I definitely thought it helped to put the frickles on the burger, not just as "wheels".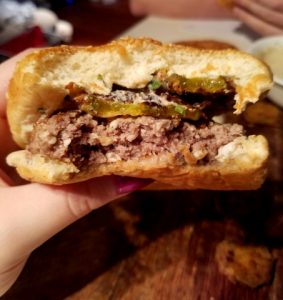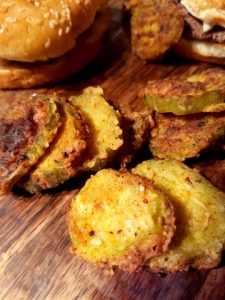 Eric's Take:
8/10
This was a great burger to start with. I loved the creamy dijon chive mixture and fired pickles with the slaty feta burger. I paired this burger with a brioche bun, which worked well. I also used a 85% lean ground beef because I was stuffing the patties. The recipe was easy to follow and the ingredients are easy to find. This recipe lost two points for the following reason. Like Zoe, I felt the burger lacked a freshness component. With the fired pickles and feta it was a bit salty and desperately needed something like fresh tomato. All the flavors were there though, and in general I felt hit earned a good score.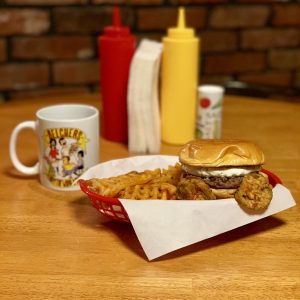 Zoe's Take -

7.5/10

Eric's Take -

8/10
Summary
All reviews are based on the cookbook as a whole. This review is coming in five parts throughout the month with a final thought in the last post. Elements looked at to review the individual recipes include flavor, complexity of instructions and ease of locating ingredients. We hope you enjoy this review, and it inspires you to look at cookbooks like this one!
(Visited 382 times, 1 visits today)