As a fun snack, I occasionally make spaghetti nests with meatballs. They are small, highly personalized little muffin sized spaghetti nests that are very tasty.
Held together with eggs, Parmesan cheese and a touch of cream, these spaghetti nests are very fun and tasty and maybe one day we will give you the recipe for them, and my super delicious meatballs.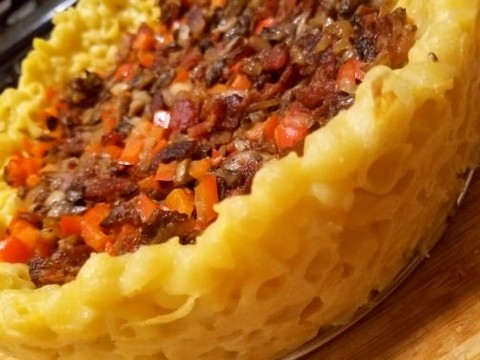 This giant mac & cheese nest is loosely based on that. Pasta nests are a million times easier to make with long and thin pasta types like spaghetti, but because we were making mac & cheese, it made more sense to use small shells. I did this knowing it would be a lot harder for the pasta to bake together in a cohesive way.
My gamble paid off. Using a cheese sauce with three cheeses (mozzarella, cheddar and provolone), I patted an entire box of small shells into a springform pan. After baking it at 350F for 15 minutes, I added a bacon and caramelized onion jam to center, and baked it again for another 15 minutes.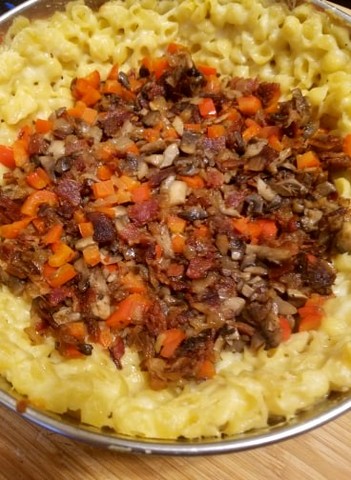 You can use any pasta and any mac & cheese recipe to make your own nest, and you can put anything you want in the middle of the nest! You can even make mini versions. Just bake at 350F for 15-20 minutes and then let cool for another 10 out of the oven.
(Visited 136 times, 1 visits today)