Nothing is better than a lovely grilled cheese sandwich. Breakfast, lunch or dinner, it doesn't matter what time you have it.
Two days ago we reviewed what was basically a grilled cheese with a ton of roasted vegetables and not one, but two types of cheese. Before this, we've had tomato soup with grilled cheese croutons and even grilled cheese with pears in it. There are so many combinations it's hard to fathom sometimes.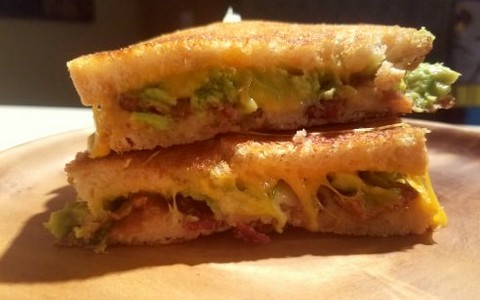 So we decided to shove some bacon and guacamole into a classic grilled cheese sandwich. First make some guacamole (you can find our recipe here). Make some bacon and toss them in.
I definitely recommend using a mixture of cheddar cheese and mozzarella cheese with the guacamole and bacon. Oh, and if you can find a nice sourdough? Use that. Definitely, use that.
(Visited 27 times, 1 visits today)