To keep up with munchies week, we're adding in these wonderful bowls made of cheese.
When you're eating anything from pasta to salad, what would make it better? I bet you were just thinking: a BOWL MADE OF CHEESE. And you'd be right. These bowls are made out of shredded Parmesan cheese that are baked for a short amount of time in the oven and then molded to be in the shape of a bowl.
Sounds like a process, right? It's actually really easy! I don't even need to fill out a recipe post to let you know how to make these!
Step 1: Preheat your oven to 350F. While it's heating up, prepare a baking sheet or two with parchment paper or silpats.
Step 2: Figure out which bowl you want your cheese bowl to look like. Flip that bowl upside down and made an outline around it with some of the cheese.
Step 3: lift the bowl and fill in the center with more cheese. There can be holes, but I wouldn't recommend it.
Step 4: Bake the cheese for 5-10 minutes or until cheese has begun to brown a bit. Remove from the oven and let cool for two minutes.
Step 5: Using your bowl and a spatula, flip the cheese onto the bowl so it can set.
Step 6: Press the cheese down so it molds with the bowl. Blot off some of the grease with a paper towel. Let set for a minimum of 10 minutes.
Step 7: Remove the bowl from the mold, and fill with whatever you desire… or just eat the bowl. I don't know your life.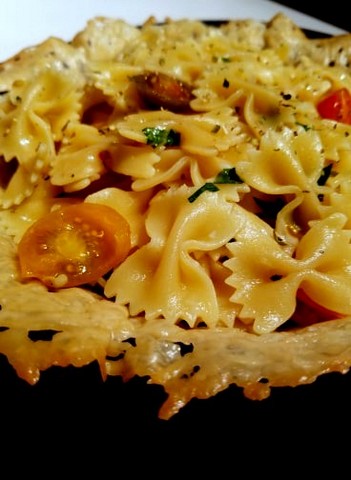 (Visited 28 times, 1 visits today)